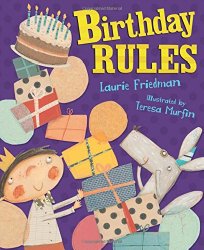 Birthday Rules
by Laurie B. Friedman (Author) and Teresa Murfin (Illustrator)
Booktalk: When it comes to birthdays, no one knows how to party like Percy! Just follow his simple rules—like #2 "Happy times call for happy measures" and #9 "Be careful what you wish for"—to make the most of your celebration.
Snippet:
And here's a little secret.
I'm a birthday pro.
When it comes to festivities,
There's nothing I don't know.
This week's Poetry Friday Round-up is hosted by Random Noodling.
Copyright © 2015 Anastasia Suen All Rights Reserved.