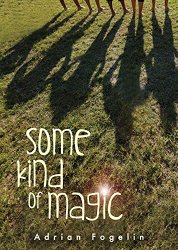 Some Kind of Magic
by Adrian Fogelin (Author)
Booktalk: It is the last summer before the big shift to high school for Cass, Jemmie, Ben, and Justin, the neighborhood kids readers first met in Crossing Jordan. Ben worries that their summer break will just be the same-old-same-old until his little brother Cody finds a hat left behind by their mysterious missing uncle. The hat — is it magic like Cody believes? — leads the gang to an abandoned building in the woods. Little do they suspect that this old property with a tragic past might just nudge open the door to the future for all of them.
Snippet:
Cass
It was the first day of summer vacation–well, second, really. But Saturday didn't count since I'd had to help Mama clean the house. Jemmie, my best friend, hoped summer would go by quick. She couldn't wait to get to high school, where we could run track for real.
Copyright © 2015 Anastasia Suen All Rights Reserved.