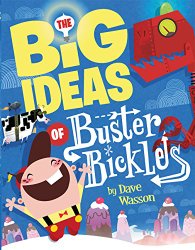 The Big Ideas of Buster Bickles
by Dave Wasson (Author, Illustrator)
Booktalk: Buster Bickles's big ideas are always getting him into trouble. But when Buster gets to test the newly invented What-if Machine, anything Buster imagines becomes reality…
Snippet:
From the moment he woke up,
Buster Buster Bickles was full of big ideas.
"Hey, Mom, Look! I'm a flesh-eating robot!"
"Mom, look out!
Laundry Monster!"
"Hey, Mom!
EGGS-ray vision!"
STEM + the Arts = STEAM
STEAM DIY Activity
Try The What-if Machine online and create some silly scenarios to write and illustrate.
Copyright © 2015 Anastasia Suen All Rights Reserved.