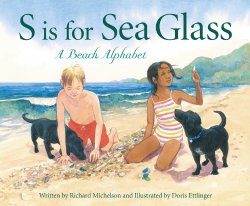 S is for Sea Glass: A Beach Alphabet
by Richard Michelson (Author) and Doris Ettlinger (Illustrator)
Booktalk: Enjoy a variety of poetry forms such as free verse, haiku, and ode in this A to Z celebration of the beach and seaside life.
Snippet:
F is for Flip-Flops
Winter is buckles and shoehorns and laces
And wingtips, galoshes, and hightops,
But summer is giggles and smiling faces
And wiggling toes into flip-flops.
See this page inside the book.
STEM + the Arts = STEAM
STEAM DIY Activity
Write a Summer Acrostic Poem.
This week's Poetry Friday Round-up is hosted by A Year of Reading .
Copyright © 2015 Anastasia Suen All Rights Reserved.