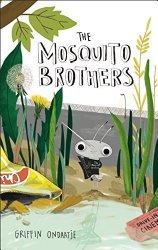 The Mosquito Brothers
by Griffin Ondaatje (Author) and Erica Salcedo (Illustrator)
Booktalk: After he nearly drowns in a parking-lot puddle, Dinnn Needles is fearful of many things, including flying.
Snippet:
On quiet afternoon, as the family sat next to their puddle under a cloudless sky, Dinnn heard a dragonfly flying overhead. It made an awful sound as it went past.
Dinnn watched the faces of his mother and father closely. They were terrified.
STEM + the Arts = STEAM
STEAM DIY Activity
Use pipe cleaners and beads to make this Colorful Mosquito.
Copyright © 2015 Anastasia Suen All Rights Reserved.