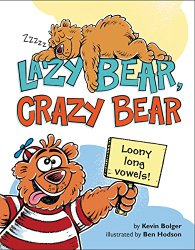 Lazy Bear, Crazy Bear: Loony Long Vowels
by Kevin Bolger (Author) and Ben Hodson (Illustrator)
Booktalk: Finally, a phonics primer that's not un-bear-able! Lazy Bear, Crazy Bear is a collection of zany cartoons carefully designed to teach all five long vowel sounds. Perfect for beginners just learning to decode words and for older or reluctant readers who just need a refresher in foundational phonics rules.
STEM + the Arts = STEAM
STEAM DIY Activity
Make your own phonics comic with the online Comic Creator.
Copyright © 2015 Anastasia Suen All Rights Reserved.