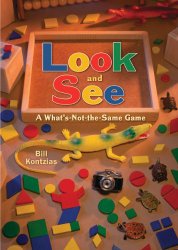 Look and See: A What's-Not-the-Same-Game
by Bill Kontzias (Author)
Booktalk: An innovative interactive puzzle book. Eye-catching photographs of toys, trinkets, and more present spot-the-difference puzzles that support early learning skills.
Snippet:
How to Play
Look at the first pictures,
Look at the second picture.
In the second picture, 1 thing is new,
1 thing is gone, and 6 things are moved.
Find the differences. The answers are
at the back of the book.
STEM + the Arts = STEAM
STEAM DIY Activity
Try it yourself with A spot-the-difference poster activity. Then make a puzzle of your own and test your friends!
Copyright © 2015 Anastasia Suen All Rights Reserved.