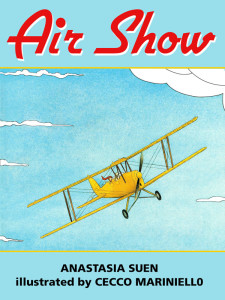 Air Show
by Anastasia Suen (Author) and Cecco Mariniello (Illustrator)
Booktalk: Cougars, Panthers, Camels, and Mosquitos. What do these animals have in common? Their names identify the historic airplanes that take flight at this spectacular air show event. In simple, poetic words and skillfully rendered illustrations, Anastasia Suen and Cecco Mariniello introduce the world of flight to children.
Author's Note:
Thanks to StarWalk KidsMedia, my picture book Air Show is now an e-book and it has come out just in time for the July PopUp Library! Hooray! (During the the month of July all children can read as many books as they want for free!) Later in the year, narration will be added to the e-book.
Air Show was my first book and although it has been out of print for many years, it is a book that is close to my heart. My father's parents built P-51 Mustangs during World War II. Yes, my grandmother was a Rosie the Riveter lady! (When you read the book, look for my grandparent's plane on page 11. Mustangs leap . . .)
STEM + the Arts = STEAM
STEAM DIY Activity
Design and test your own plane with the online Paper Airplane Creator.
Counting down the hours to the opening of the FREE #PopUpLibrary. Every child can read for the entire month of July! pic.twitter.com/DvNiGa1DtP

— StarWalk Kids Media (@StarWalkKids) June 30, 2015
Copyright © 2015 Anastasia Suen All Rights Reserved.