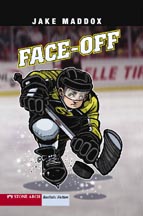 Face-Off by Jake Maddox
(ghostwritten by Anastasia Suen)
Booktalk: Kyle wants to be a great hockey player, just like his brother, Caleb. Unfortunately, Kyle spends a lot of time sitting on the bench. The only way he'll ever catch up to his brother's goal total is if the coach lets him play more, and if his teammates begin to accept him. If Kyle can get his head in the game when he is on the ice, he might have a chance at scoring some major points for the team.
Copyright: 2007
Guided Reading level: M
Lexile Level: 470L
ATOS Level: 3.2
AR Quiz Number: 109966
Library Binding / Paperback: 72 pages
Publisher: Stone Arch Books
Book Activities:
Explore the Science of Hockey.
Find the words in this hockey word search.
Make your own Hockey Word Search.
Author's Note:
Tonight is the first night of the Stanley Cup Finals! When Mike Modano and the Dallas Stars were playing for the Stanley Cup, it was hockey madness at our house. The kids played street hockey in front of our house every day after school and into the summer. (The final Stanley Cup game against Buffalo in 1999 went into TRIPLE overtime, but the Stars won! Go, STARS!)
Copyright © 2015 Anastasia Suen All Rights Reserved.