Veterans Day
by Arlene Worsley
24 pages
Booktalk: Veterans Day is a time to honor the soldiers who have fought for the United States in war. From the first celebration after World War I to celebrations across the country today, Veterans Day provides an in-depth and informative overview of the holiday.
Snippet:
What is Veteran's Day?
November 11 is Veteran's Day. In 1918, it was the day a peace agreement was signed to end World War I. Veteran's Day is observed every year in the United States. On this day, Americans honor war veterans who served in all wars.
Nonfiction Monday
This week's Nonfiction Monday Round-up is here at Booktalking
Here is what the kidlitosphere is reading this week:
Board book
Tammy at Apples with Many Seeds says "This one is an oldie but goodie but still new to me. Tomorrow's Alphabet by George Shannon has great potential for inspiring students."
Picture books
Jeff of NC Teacher Stuff says "14 children share why they think they should be elected president. Each child gives one positive character trait and examples of how they exemplify that trait."
At The Children's War, Alex reminds us, "Next Sunday is Veterans Day/Remembrance Day. The Poppy Lady is a biography of the woman who helped make the poppy a world wide symbol of remembrance honoring soldiers who have fallen in war."
Alice of Supratentorial shares I Have a Dream, a beautiful tribute to Martin Luther King Jr. and a great way to introduce a difficult topic with young children.
Tiffa of The Picture Book Review writes, "My son and I are using this book to help us learn Hindi. There aren't a lot of resources out there for teaching small children Hindi. I think this review could be helpful for non-native Hindi speaking parents who want to introduce their young children to Hindi."
Jeanne of True Tales & A Cherry On Top shares "Noah Webster & His Words, a new picture book biography which not only talks about the origin of the famous dictionary, but also touches upon American history during the Revolutionary War and on."
Margo at Fourth Musketeer highlights "an outstanding new picture book for older readers about a jazz legend, Spirit Seeker: John Coltrane's Musical Journey, by Gary Golio."
Middle Grade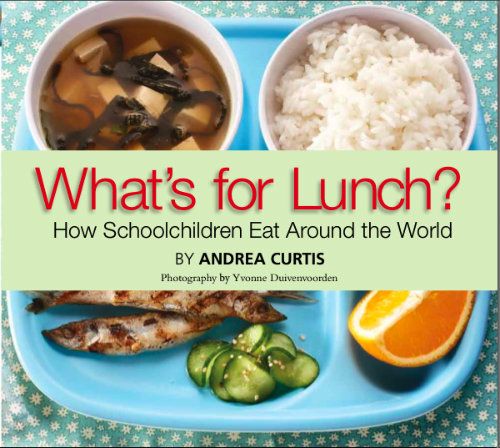 Jama at Jama's Alphabet Soup has a review of Andrea Curtis's wonderful new book featuring school lunches from around the world, that serve as a lens to examine global issues such as climate change, diet-related illnesses, social justice.
Louise of The Nonfiction Detectives reviews Steve Jobs: the Man Who Thought Different by Karen Blumenthal, saying "It is a solid introduction to Steve Jobs and how marketing genius that created a series of 'gotta-have' products.
Jennifer of JeanLittleLibrary says, "This is the story of Donn Fendler's survival in the Maine wilderness in 1939, adapted as a graphic novel and made fresh for new readers.
At SimplyScience, Shirley says "100 People Who Made History tells of significant thinkers, inventors, and historians who shaped the world and includes many scientists and inventors."
Young Adult
Abby of Abby the Librarian writes, "Today I have a review of "Invincible Microbe, a biography of tuberculosis!"
Copyright © 2012 Anastasia Suen All Rights Reserved.